ICMAB President Participated SAFA Foundation day Webinar
South Asian Federation of Accountants (SAFA) celebrated August 22nd as SAFA Foundation Day. To commemorate the occasion this year SAFA organized a Webinar on the theme "COVID 19 Pandemic: Changing Dynamics of the Accountancy Profession" on August 22, 2020. Past President & Present Council Member of ICMAB and SAFA Vice-President Mr. A. K. M. Delwer Hussain FCMA joined the program as Special guest while the President of ICMAB Mr. Md. Jasim Uddin Akond FCMA joined as panelist.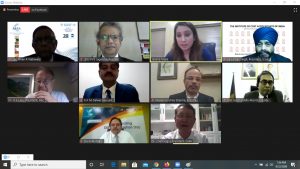 The objective of the webinar was to understand the challenges being faced by the Accountancy profession due to COVID 19 pandemic and how the PAOs have managed this situation.