New Curriculum Structure
The Institute of Cost and Management Accountants of Bangladesh (ICMAB) has changed its curriculum structure from July-December 2015. ICMAB is pleased to revise its curriculum structure as a part of its continuous improvement of its curriculum in line with the demands of the markets. In its new curriculum, the ICMAB has absorbed all the CIMA papers and inserted six new papers to fulfill the local needs. Out of the six papers, three papers are made mandatory for students coming through Intermediate Entry Route (IER). The other three papers form the fourth pillar (Regulatory Pillar) at professional levels in addition to three pillars as CIMA has in its structure. Thus in total, ICMAB new curriculum has 20 papers as given below: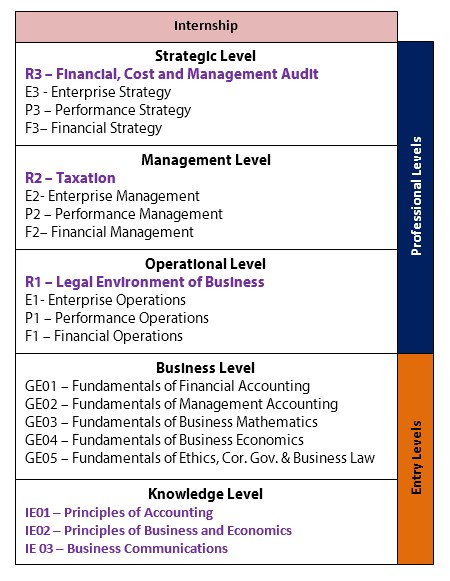 The curriculum structure at a glance is presented below: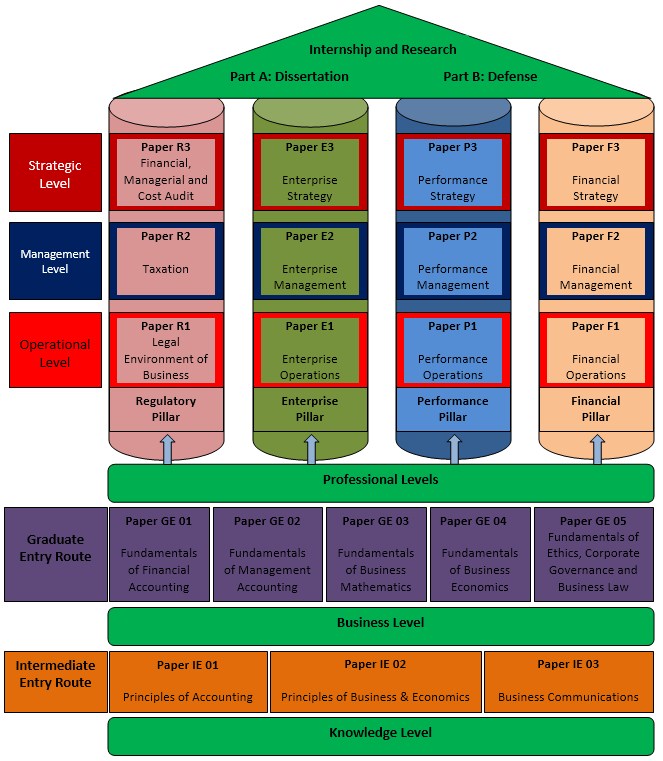 The curriculum has two entry levels (basements), four pillars (regulatory, enterprise, performance and financial) and one roof (internship and research). A student may seek admission in two consecutive levels (except for intermediate entry route who haven't yet passed knowledge level), however, he cannot sit for the exam at a higher level course until he finishes the lower level paper within the same pillar. Achievement of permanent credit in all the papers is a must to undergo an internship and research. Students may also sit for CIMA case studies at different levels if they like so. In that case, they need to enroll with CIMA and continue the two programs in parallel. However, ICMAB membership is a pre-requisite to CIMA membership.