ICMAB Delegates meets BSEC Chairman
A delegation team from The Institute of Cost and Management Accountants (ICMAB) met Bangladesh Securities and Exchange Commission (BSEC) Chairman Prof. Dr. Shibli Rubayat Ul Islam at BSEC conference room on Wednesday, 1st July, 2020.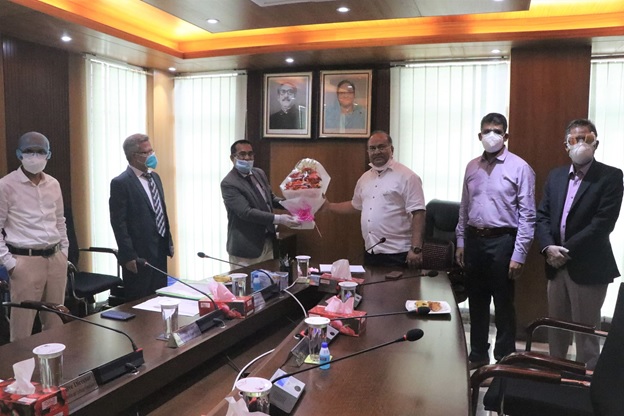 The delegation was led by ICMAB President Mr. Md. Jasim Uddin Akond FCMA. The Vice Presidents of the Institute Mr. Abu Bakar Siddique FCMA and Mr. Md. Mamunur Rashid FCMA, Treasurer Mr. Md. Ali Haider Chowdhury FCMA, Council Member Mr. A.K.M. Kamruzzaman FCMA were participated in the meeting.
ICMAB President briefed to the honorable BSEC Chairman about the Institute. He emphasized on ensuring Cost Audit implementation by the Cost & Management Accounting practicing firm in each listed companies as per gazette notification in 2001.
Mr. Md. Mamunur Rashid FCMA, Vice President described in details the importance of 'Cost of Goods Sold Statement' certification by the Cost Audit practicing farms in all listed companies. He also requests the BSEC chairman to involve CMAs in the field of share valuation, premium calculation and enlistment of CMAs as independent Director in the listed companies to ensure corporate governance.
Mr. Md. Ali Haider Chowdhury FCMA, Treasurer and Mr. A.K.M. Kamruzzaman FCMA, Council Member also participated in the discussions and sought all out support for implementing Cost Audit in all listed companies for the greater interest of the nation. The BSEC Chairman assured the delegation for his all-out support in this respect and request to submit a detail proposal at the earliest.