'Learning must go on during COVID', said BUET VC
The Institute of Cost and Management Accountants of Bangladesh (ICMAB) organized "The inauguration session of Skill Development Program (SDP) for students & Launching of CMA Directory Mobile App" on November 28, 2020 evening. Prof. Dr. Satya Prasad Majumder, Vice Chancellor, Bangladesh University of Engineering and Technology (BUET) joined the program as Chief Guest while Mr. A. K. M. Delwer Hussain FCMA, Vice President, SAFA attended as special guest.
Chief Guest Prof. Dr. Satya Prasad Majumder congratulated the institute for its modern effort to learning and skill development. He said that, accounting is very relevant and important skill for the engineers, because their technical skill also requires the capacity of proper calculation. He gave importance on learning and mentioned that, through technological help we must continue our learning process in this COVID period, make us ready for the upcoming changes and become capable to work in the upcoming era of 4thindustrial revolution. He also launched the 'CMA Directory Mobile app' during the programme.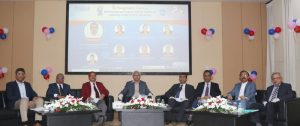 Special Guest Mr. A. K. M. Delwer Hussain FCMA said that, Skill development is such an important thing for any professional that it defines the result of their career. CMA professionals are very much capable to work for the development of the nations' economy. He requested the chief guest to tell about the CMA professionals on a positive note in various places and incorporate them in different relevant works with BUET.
ICMAB President Mr. Md. Jasim Uddin Akond FCMA thanked all the honorable guests and participants, and specially showed his gratitude to the honorable chief guest for coming to this institute. He mentioned about the importance of skill development for learners from all phase and become capable to give their effort for the development of this country.
Mr. Md. Touhidul Alam Khan FCMA, Additional Managing Director, Standard Bank Limited gave a fluent and connective presentation on "Skill Development: Learn, adapt and accelerate" where he highlighted the importance of skill development portraying various points and areas of soft skills and its proper implementation.
Mr. Md. Mamunur Rashid FCMA Vice-President & Chairman, Education Committee, ICMAB gave a brief description of the institute and the profession and also informed the recent reformation procedures of CMA curriculum for preparing the students competent in the competitive professional field.
Treasurer of ICMAB Mr. Md. Ali Haider Chowdhury FCMA moderated the entire program connecting the audience and discussants and also gave his analysis regarding the topics of discussion.
Secretary of ICMAB Mr. Md. Munirul Islam FCMA gave the welcome address and Mr. Abu Bakar Siddique FCMA, Vice President, ICMAB gave vote of thanks to the participants and audience of the program.
EVENT INFO :
Start Date:

November 28, 2020

End Date:

November 28, 2020