Inauguration of ICMAB online class
The difficult situation of COVID-19 created a bad impact on the overall education sector, but in this age of modern technology, nothing can be stopped forever. Distance learning and online class are now quite popular among academic arena. The Institute of Cost and Management Accountants of Bangladesh (ICMAB) has also take initiative for online class for the students effective from 1st July 2020.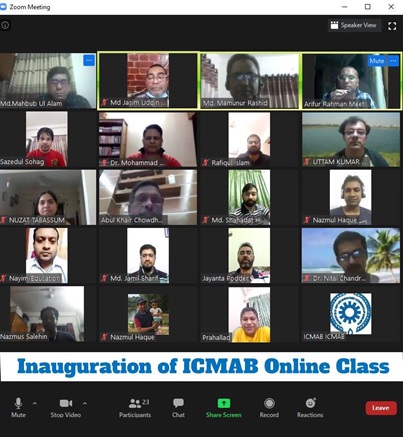 ICMAB President Mr. Md. Jasim Uddin Akond FCMA inaugurated the online class on 30th June 2020 at 8.30 pm in presence of the faculties. He said, we have to stay strong in this difficult moment and we need to move forward with available resources. Online class process is a modern and helpful approach for everyone. He hopes that ICMAB students will be developed and get helps from this online classes towards their path of learning.
The Vice President of ICMAB and Chairman of Education Committee Mr. Md. Mamunur Rashid FCMA emphasized on the on line classes at this pandemic situation. In future there is a plan for online admission, examination, classes, CPD and training for the members will be conducted through online he added. Moreover, the education systems will be run through learning Management Systems (LMS), which other professional bodies in the world are experienced. He mentioned in his speech that the reforms in education and examination is very much required to meet up the demand of the stakeholders. Therefore a reforms board has been formed and they are working on it. He sought all out support from the faculties for the greater interest of the CMA profession.
Amongst other Mr. Arifur Rahman Meethu FCMA, Consultant, Executive Director Mr. Md. Mahbub Ul Alam FCMA, Director Mr. Md. Nazmus Salehin and faculty of the various subjects were participated in the program through zoom.
EVENT INFO :
Start Date:

June 30, 2020

Start Time:

19:00

End Date:

June 30, 2020

End Time:

23:00

Number of Participants:

100

Location:

Webinar