ICMAB Webinar on "CMA's Role in Ensuring Compliance in Financial Reporting"
ICMAB organized a Webinar on "CMA's Role Ensuring Compliance in Financial Reporting" on July 24, 2020 evening. Professor Shibli Rubayat-Ul-Islam, Chairman, Bangladesh Securities and Exchange Commission (BSEC) graced the program as Chief Guest. Mr. Zia Ul Mustafa Awan FCMA President, South Asian Federation of Accountants (SAFA) attended the webinar as Special Guest and Prof. Lakshman R Watawala FCMA, FCA, President, Institute of Certified Management Accountants of Sri Lanka (CMA Sri Lanka) attended the webinar as paper presenter & Guest of Honor. ICMAB President Mr. Md. Jasim Uddin Akond FCMA presided over the webinar.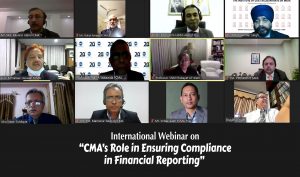 In the webinar, the Chief guest Professor Shibli Rubayat-Ul-Islam said that, inclusion of professional cost and management accountants in relevant sectors would be better for the economic development of Bangladesh. Bangladesh is doing well in various socio-economic fields in this tough time amid Corona virus, and would be more productive after the end of Covid-19 pandemic. BSEC chairman mentioned that, to judge an organization properly, high quality financial statements with adequate disclosures are needed to protect shareholders as well as public interest. Professional cost and management accountants would be able to give a great hand for ensuring the transparency of financial reports. He also opined that Cost Auditing is a very important process for ensuring compliance in financial reporting.
Mr. Md. Mamunur Rashid FCMA, Vice-President of ICMAB and DMD, Index Group of companies presented the Keynote paper. He briefly described about the CMA profession and its services like Investment analysis, its appraisal and evaluation; Valuation of shares and properties, Share Premium calculations on IPOs, Diagnosis of industrial sickness and corrective measures, Cost Audit of manufacturing Industry to validate COGS statement, Inventory control incorporating mathematical models, Cost reduction by using modern management tools like Operation Research, Value Engineering, etc. On behalf of the institute, he highlighted some recommendation Which are- Compliance of Govt. Order for implementation of cost audit [Sec 220 Companies Act]; Certification of COST OF GOODS SOLD STATEMENT by CMAs for all listed companies, inclusion of CMAs in the Independent Directors panel of the listed companies etc.
CMA Balwinder Singh, President of the Cost Accountants of India (ICAI), Mr. Imtiaz Alam FCMA FCA, Council Member ICMAB, Mr. Mohammad Abdul Hai FCMA, Chairman, Professional Service Committee, ICMAB and Mr. Ruhul Ameen FCMA, Editor, The Cost and Management Accountants (Journal) and Mr. Abu Sayed Md. Shaykhul Islam FCMA, Past President and present Council Member of ICMAB spoke on the occasion.
Chairman of Seminar and Conference Committee and Past President of ICMAB Mr. AKM Delwer Hussain FCMA gave the welcome address and Mr. Abu Bakar Siddique FCMA offered vote of thanks. Mr. Md. Munirul Islam FCMA, Secretary, ICMAB acted as Moderator.
ICMAB President Mr. Md. Jasim Uddin Akond FCMA thanked all the honorable resource persons and participants. In his presidential speech, he urged for implementation of the Government Order regarding Cost Audit, a time demanding means to guide Corporate Management towards increasing productivity in both industrial and service sector to attain desired goals. Which in turn will significantly contribute to the economic development of our country.
He appealed to the Chief Guest for his kind support and initiative to enhance the scope of contributing opportunity for the CMAs. This will ensure proper adherence to the legislative and compliance guidelines to generate dependable Financials.
President also urged to implement COGS (Cost of Goods Sold Statement) auditing by the Cost and Management Accountants for all listed companies to assist Corporate Managements, Regulators, Other stakeholders and shareholders to have an in-depth idea about the financial health of an entity.
The speakers highlighted the importance of cost audit in both public and private sectors and mentioned that cost audit includes both financial and non-financial issues and provide recommendations as to how to improve sectional efficiency and overall performance of the organization, increase productivity and profitability and making best quality of goods at lowest cost. They said cost audit is much more than the financial audit to minimize wastage, increase profitability and declare due dividend to the shareholders and boost up capital market. They mentioned that the integrated reporting under cost audit ensures the financial and spending accuracy on one hand and guides the corporate management to achieve the organizational goals on the other. They added that the public finance management of the government can be improved a lot by doing cost audits for fixing prices of the goods of basic needs of the people like medicine, fertilizer, food, health equipment etc. As such, cost audit would help protecting consumers' rights. They also mentioned that the government would be benefited, if it takes the professional services of Cost and Management Accountants in budgeting and budgetary control activities. National Board of Revenue (NBR) would be able take right steps in giving tariff protection to the really deserving local manufacturers taking decisions from the research output conducted by Cost Auditors. The government would also be benefited in combating corruption and money laundering by doing cost audits of public spending. In conclusion, they said that cost audit is not a burden for the business houses and government organizations; rather it is an investment to asses the ability of an organization to continue as a going concern, improve efficiency and performance, fight corruption and protect public interest as well; but the corporate leaders are not aware of the uses and benefits of Cost Audit.
EVENT INFO :
Start Date:

June 16, 2021

End Date:

June 16, 2021