ICMAB organized 2nd Accounting Educators Conference
The Institute of Cost and Management Accountants of Bangladesh (ICMAB) organized a day long program for the Accounting educators from all over the country. The program- '2nd Accounting Educators' Conference' on "Management Accounting Profession in Technology Driven Society" held on the Institute's Auditorium today, 6th December 2019 Friday. The first conference was held at 27th October, 2017.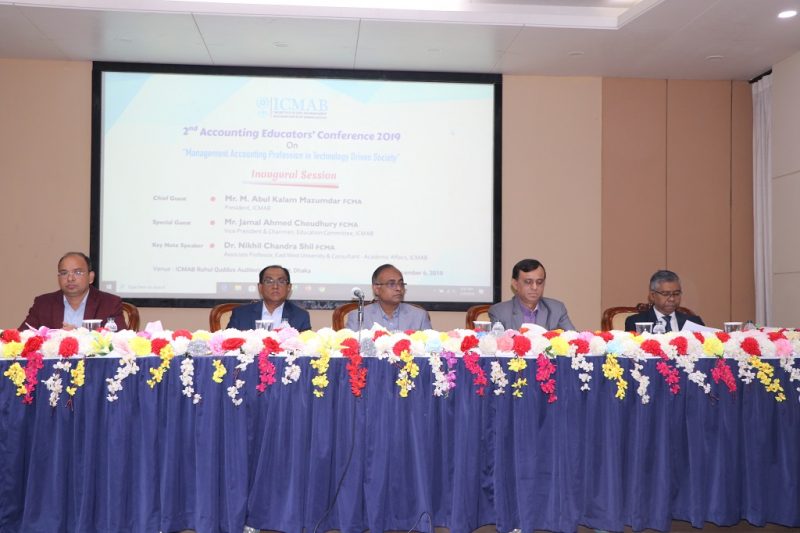 The day long program started with an inaugural session where the Institute and the profession was briefly described. Later on, it continued with 3 technical sessions and a valedictory session at the end. 141 accounting academicians of College and University joined this program from all over the country.
Mr. Jamal Ahmed Chowdhury FCMA, Vice President, ICMAB & Chairman, Education Committee, ICMAB made the welcome address to the participants. He gave his heartful thanks to the participants from all over the country for their spontaneous involvement. In his brief speech he gave importance to get attached with the change happening around us, acquiring and adopting with the new knowledge and learnings.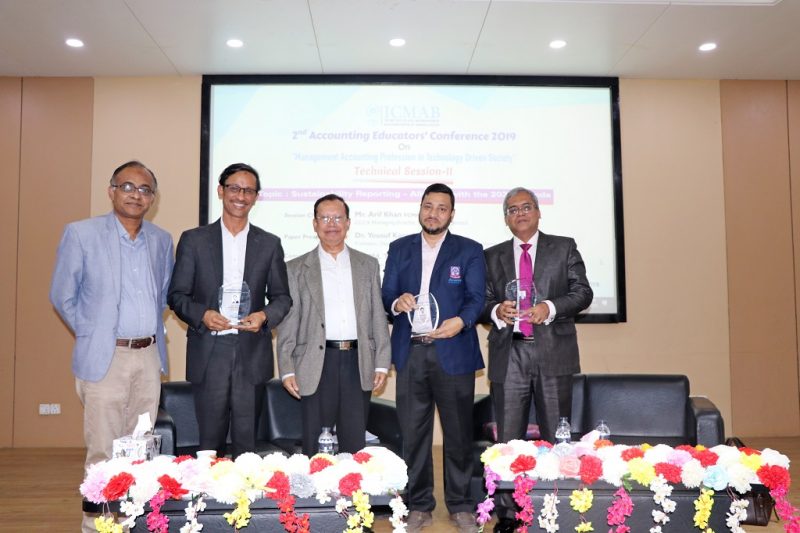 Mr. M. Abul Kalam Mazumdar FCMA, President, ICMAB described the present scenario of accounting profession mentioning the challenges and obstacles in his speech. He said that as the global environment is changing, the accountants need to give new and different services. Mentioning the necessity of this profession and professionals- he stated that the number of professional accountants is around 4000 only, whereas the population of our country is almost 170 million! He said that, in this condition, the educators have a great role to play for creating a strong and solid resources of professional accountants.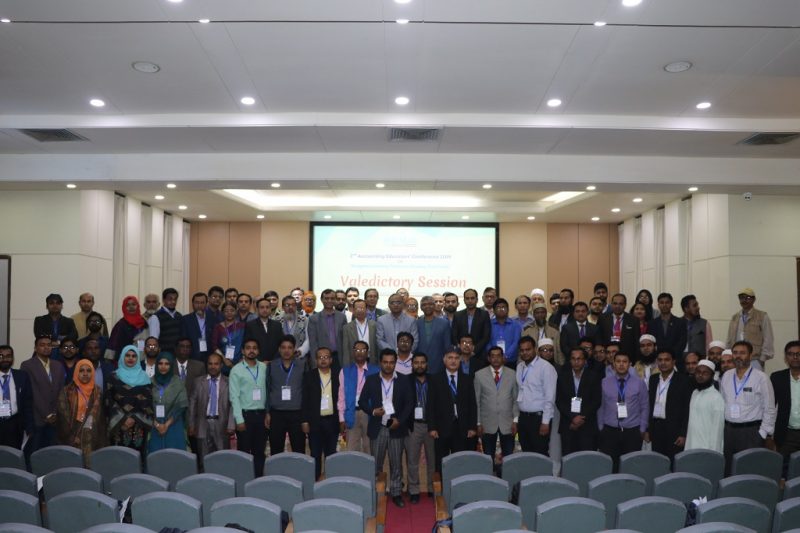 Dr. Nikhil Chandra Shil FCMA, Associate Professor, East West University & Consultant – Academic Affairs, ICMAB gave a presentation titled "Introducing the Institute of Cost and Management Accountants of Bangladesh (ICMAB)" where he gave a brief history and present of this institute and its curriculum. Mr. Mr. Md. Abdur Rahman Khan FCMA, Secretary, ICMAB and Joint Secretary, Finance division gave the vote of thanks.
The first technical session was themed `Changing Role of Accountants' and the topic was `Digital Transformation: Is the Accounting Profession Ready?' Mr. Mahtab Uddin Ahmed FCMA, Managing Director and CEO, Robi Axiata Limited gave a presentation in this session. In this interactive presentation, Mr. Mahtab mentioned about the upcoming changes and 4th industrial revolution, said that it will affect all the professions including professional accounting. It's time to adopt new skills and development which is needed. Mr. Hasnain Thoufiq Ahmed FCMA, Finance Director, GlaxoSmithkline Bangladesh Limited also repeated this necessity in his comment. The session was chaired by Mr. Parthapratim Deb, Additional Secretary & Executive Director, Bangladesh Computer Council (BCC).
The second technical session was themed 'Emerging Corporate Reporting Frameworks' and the topic was 'Sustainability Reporting- Aligning with the 2030 Agenda'. Mr. Arif Khan FCMA, Vice President of ICMAB and CEO & Managing Director, IDLC Finance Limited chaired this session. Dr. Yousuf Kamal, Professor, Department of Accounting & Information Systems, Faculty of Business Studies, University of Dhaka; presented a technical paper and Mr. Md. Touhidul Alam Khan FCMA, Deputy Managing Director & Chief Business Officer, Prime bank Limited gave a speech as commentator.
The third technical session was themed on 'Corporate Governance' and the topic was 'Recent Developments in Corporate Governance'. Professor Dr. Swapan Kumar Bala FCMA, Treasurer, ICMAB and Commissioner, Bangladesh Securities and Exchange Commission (BSEC) participated in this session as session chairman. Mr. Abdul Matin Patwary FCMA, Chief Financial Officer, Dhaka Stock Exchange Limited presented a technical paper and Mr. Elias Ahmed FCMA, Chief Financial Officer, Marico Bangladesh Limited gave a speech as commentator in this session.
The program ended with a valedictory session where the participants expressed their opinions regarding various issues relevant with the profession certificate distribution among the participants. ICMAB office bearers, past presidents, council members, fellow and associate members, students and other participants were present in this program.
EVENT INFO :
Start Date:

September 24, 2020

End Date:

September 24, 2020