ICMAB International Conference on Combating Corruptions to Achieve SDGs and Vision 2041
Chattogram Branch Council of the Institute of Cost & Management Accountants of Bangladesh (ICMAB) has organized a daylong Conference on "Combating Corruptions to Achieve SDGs and Vision 2041"on Saturday, 28th December, 2019 at World Trade Center, Agrabad, Chattogram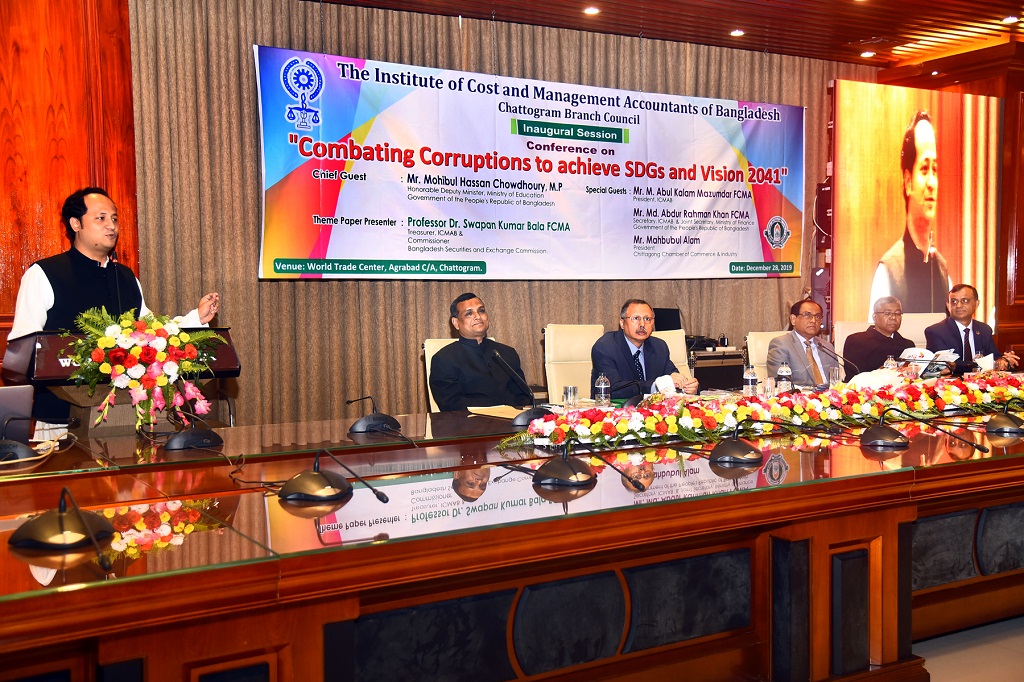 Mr. Mohibul Hassan Chowdhoury M.P, Honorable Deputy Minister, Ministry of Education, Government of the People's Republic of Bangladesh was inaugurated the Conference as Chief Guest. Theme paper of the Conference was presented by Prof. Dr. Swapan Kumar Bala FCMA Treasurer, ICMAB and Commissioner, Bangladesh Securities and Exchange Commission. Mr. Md. Moazzam Haider, FCMA, Chairman, Chattogram Branch council of ICMAB was presided over the program. Moreover Mr. M. Abul Kalam Mazumdar FCMA, President, ICMAB, Mr. Md. Abdur Rahman Khan FCMA, Secretary ICMAB & Joint Secretary, Ministry of Finance, Government of the People's Republic of Bangladesh, Mr. Mahbubul Alam, President, Chittagong Chamber of Commerce and Industry were in there as Special guests.
Mr. Mohibul Hassan Chowdhoury M.P said that, Bangladesh has passed almost all of the indices to achieve SDGs by Combating Corruptions and if this trend sustains, Bangladesh will reach to Vision 2041 as developed country by the United Nations. We firmly believe that, the theme and discussion materials will enrich the knowledge of the participants besides the accumulated knowledge will help the country's development along with their arena.
Three technical sessions of the conference "Preventing Corruption in Bangladesh: The role of Professional Accountants" presented by Professor Dr. Md. Salim Uddin FCA, FCMA, Chairman, Bangladesh House Building Finance Corporation & Executive Committee of Islami Bank Bangladesh Limited, "Efficiency in Banking Sector and Economic Growth to achieve SDGs and Vision 2041" presented by Mr. Imtiaz Alam FCA, FCMA, Chairman, Infinity Group of Companies & Corporate Support Limited, Panel Discussion on the dream of "Made in Bangladesh" wherein Ms. Akhter Sanzida Kasem FCA, FCMA, Partner, A. Qasem & Co., Professor Dr. Mahmood Osman Imam FCMA, Professor & Former Chairman, Department of finance, University of Dhaka commented over the first two sessions respectively and Mr. Mohammed Ali Newaz FCMA, Chief Financial Officer, Beximco Pharmaceuticals Ltd., Mr. Md. Abdul Aziz FCMA, Managing Director, Western Agro Industries Limited & Chairman, Waso Credit Rating Company (BD) Ltd. and Mr. Arif Khan CFA, FCMA CEO and Managing Director, IDLC Finance Ltd. presided over the sessions respectively.
A large numbers of high government officials, local top bankers, various commercial executives, university's teachers and students, ICMAB's members and senior students attended in the conference.
EVENT INFO :
Start Date:

December 28, 2019

End Date:

December 28, 2019