ICMAB Convocation 2019 Celebrated in Grand Style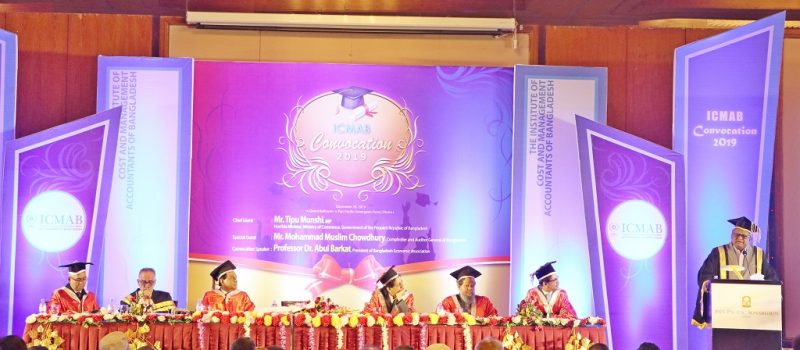 Cost and Management Accountants (CMAs) can play a significant role in reducing the cost of business and prevent wastage and misuse of resources, said Commerce Minister Mr. Tipu Munshi MP. Terming efficient workforce vital for faster economic growth, he praised the role of the Institute of Cost and Management Accountants Bangladesh (ICMAB) in creating well-bred CMA professionals. Mr. Tipu said this as the Chief Guest at the ICMAB Convocation-2019 hosted by ICMAB at the Grand Ball Room, Pan Pacific Sonargaon, Dhaka on Thursday, 26 December 2019.
Bangladesh Economic Association (BEA) President Prof. Dr. Abul Barkat delivered the convocation speech with ICMAB President Mr. M. Abul Kalam Mazumdar FCMA in the Chair. Comptroller and Auditor General of Bangladesh Mr. Mohammad Muslim Chowdhury addressed the event as the Special Guest.
In this competitive world, Mr. Tipu Munshi said, reducing the cost of doing business is crucial and there is no other way to do so without efficient human resources. The CMAs through using their knowledge can identify weakness of companies and suggest remedies to recover from it to make the companies profitable, he added.
At the convocation, Dr. Barkat said while economists work on developing theories, CMAs deal with real problems at field level which require practical knowledge-based education. Since cost accountants and management accountants deal with the reality, it might be of high knowledge utility for them to recognize the essence of 'value' in valuing things, he said.
Dr. Barkat said the CMAs must uphold ethical values and moral responsibility by understanding the essence of "value of things" and need to believe that efficiency is not everything. He also suggested the cost and management graduates to engage in learning new things, acquire new knowledge and re-learning to solve freshly arose problems.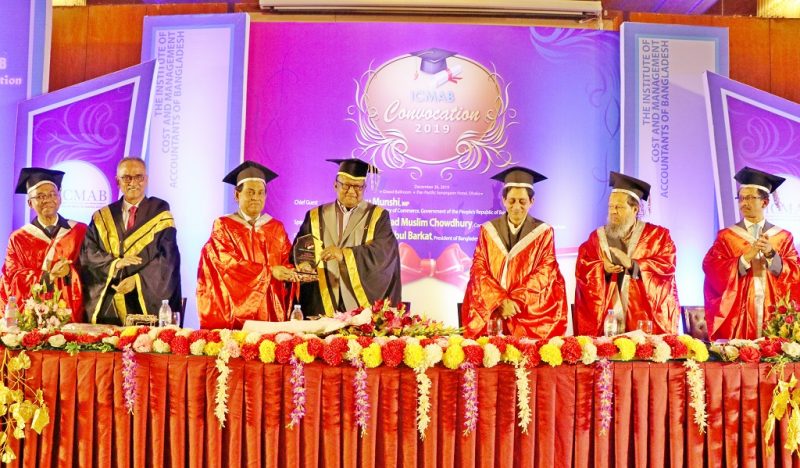 Speaking as a Special Guest, Comptroller and Auditor General of Bangladesh Mr. Mohammad Muslim Chowdhury laid emphasis on skilled manpower to cope with the Fourth Industrial Revolution. "Now, we need skilled manpower for the country's economic growth. The demand for you will slump to zero and your certificates will be valueless if you can't cope with the 4IRs," he said.
ICMAB President Mr. Mazumdar said Bangladesh is in need of competent accounting professionals to face the challenges of globalisation and rapid potential growth of the national economy.
ICMAB is very much committed to producing such professional accountants from its very inception, he went on to say. "To become a developed country by 2041, we need to develop a private and public sector-led economy which will be transparent and which will ensure good governance in every aspect."
Mr. Tipu Munshi handed over certificates to a total of 245 CMA degree holders at the programme. After the certificate giving ceremony and photo session phase, the programme ended with a grand dinner where all the participants and invitees joined with their friends and family.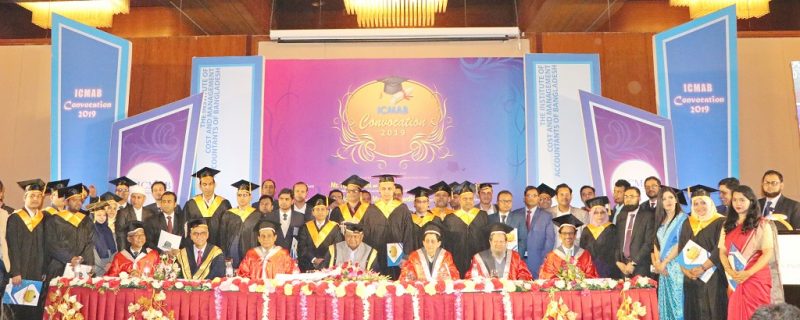 EVENT INFO :
Start Date:

September 24, 2020

End Date:

September 24, 2020