ICMAB Celebrates International Women's Day 2020
The Institute of Cost and Management Accountants of Bangladesh (ICMAB) celebrated the International Women's Day 2020 by organizing a Seminar on 8th March 2020 at ICMAB Ruhul Quddus Auditorium, ICMA Bhaban, Nilkhet, Dhaka.
Chief Guest of the Seminar was State Minister for Women and Children Affairs Fazilatunnesa Indira MP. Managing Director of Probashi Kallyan Bank Mahtab Jabin was present as special guest. Professor Dr. Sadeka Halim, Dean, Faculty of Social Science, University of Dhaka was the key discussant in the program. Key note address was given by Rukhsana Rashid FCMA; Executive Director, Bangladesh Securities and Exchange Commission. Akhtar Sanjida Kasem FCMA, Partner, A. Qasem & Co., Chartered Accountants and Founder & Consultant of K. K. Foundation Esha Mahin was present as guest of honor.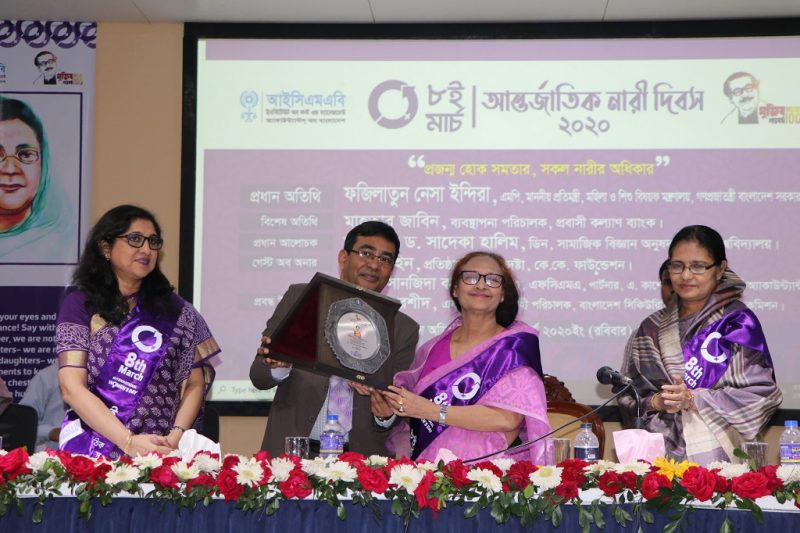 ICMAB President Mr. Md. Jasim Uddin Akond FCMA thanked the chief guest for ensuring her valuable presence in the program and expressed his gratefulness to all honorable guests and invitees. The ICMAB President requested the honorable Statte Minister to allocate a fund for vertical extension of ICMAB Bhaban which floor will do a great support for institutes female students. He also requested her to fix few seats for ICMAB female students in nearest Kormojibi Mohila Hostel that they can study smoothly. Mr. Md. Mamunur Rashid FCMA, Vice President of ICMAB delivered the welcome speech and thanked the honorable guests and invitees for coming in the program. Mr. Md. Munirul Islam FCMA, Secretary ICMAB offered vote of thanks in the program. ICMAB Past President and Council member Mr. A. K. M. Delwer Hussain FCMA thanked the honorable chief guest mentioning her bludgeoning political career and remarkable achievements. He thanked the chief guest and requested her to help this profession and institute for betterment.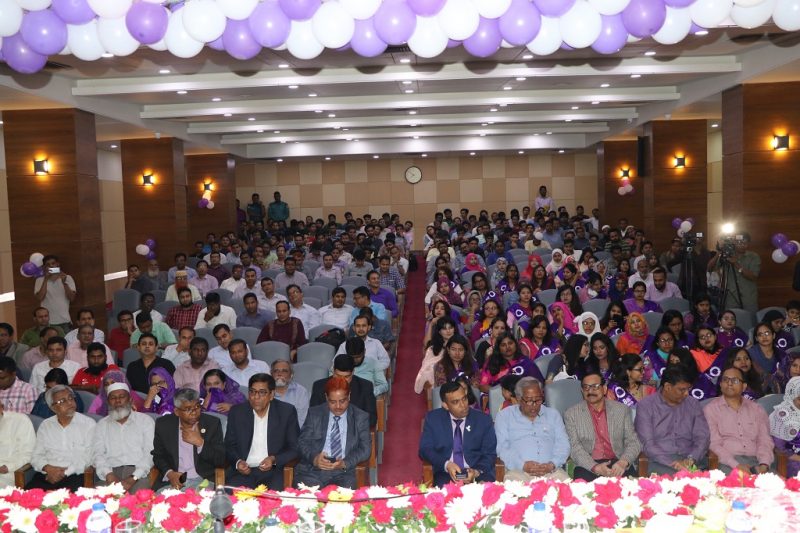 Chief guest Fazilatunnesa Indira MP greeted everybody for the Mujib barsho. She said that her ministry is doing important activities in this glorious year which will create a great impact for the development and empowerment of our women. She thanked ICMAB officials for inviting her and remembered her student life while she used to go through this area. Honorable State Minister assured that she will try her best to facilitate the institute that more female members can be added in the profession. She gave importance about the present governments outlooks on women empowerment remembering Father of The Nation Bangabandhu Sheikh Mujibur Rahman and his families visionary approach.
Special guest Mahtab Jabin said that the existence of equality between men and women in our constitution is still beyond from the real scenario. Women are still enforced to do non-payment works, and their empowerment is not happening because of so many barriers and the lack of kindness from the society. She hoped that every one will come forward to develop this situation.
Professor Dr. Sadeka Halim highlighted so many issues and statistical facts which showed that our women are oppressed by the system and viewpoint of patriarchal society. Economic empowerment can strengthen women's capacity but not by all means as long as violence, gender issues, family structures and point of views remain the same. She inspired the women to come forward for their own development that they can be more countable, empowered and advanced day by day.
Rukhsana Rashid FCMA; Executive Director, Bangladesh Securities and Exchange Commission said that women are working with success but the are not getting equal remuneration in most of the places. In the top position of many aspects' women are working but the number is still low. She inspires more women to come in the CMA profession.
Akhtar Sanjida Kasem FCMA gave importance on women empowerment in both of family and workplace. She hoped that more female member will join in CMA profession in the upcoming days. She remembered late ICMA member Kirmani-Jannatul Couple and their child who died in recent fire accident at their residence in Mogbazar.
Founder & Consultant of K. K. Foundation Esha Mahin mentioned about numerous obstructions and blockages like violence, lack of help, mental issues, family, tortures and insecurities which are making the process of women empowerment day by day. Unless we change our point of views and practices then it will take more than centuries to create an equal society where men and women will be equal in the basis of empowerment, she added.
Past Presidents, Council Members, large number of Fellow and Associate Members of the Institute and a large number of running students attended the program.
EVENT INFO :
Start Date:

March 8, 2020

Start Time:

19:00

End Date:

March 8, 2020

End Time:

23:00

Number of Participants:

400

Location:

ICMAB Ruhul Quddus Auditorium, ICMA Bhaban, Nilkhet, Dhaka.