ICMAB Celebrates International Accounting Day
The 10th November is celebrated as "International Accounting Day" in most of the countries of the world. As one of the core spokesperson of cost accounting profession in our country, The Institute of Cost and Management Accountants of Bangladesh (ICMAB) celebrated the occasion on Sunday, 10th November, 2019 with some special activities and programs.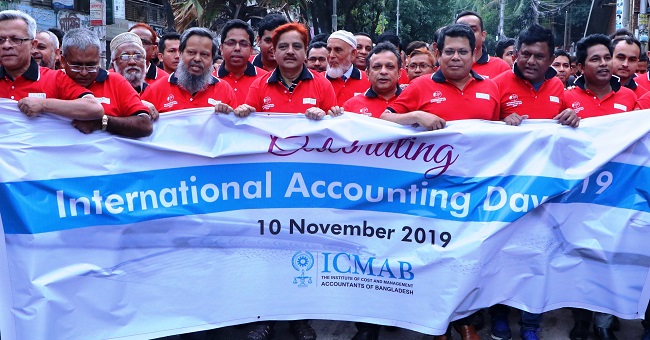 Marking the day, the ICMAB brought out a rally from its official building in the city's Nilkhet area today 4.00 pm and returned here after parading the Katabon and Nilkhet signal. Former presidents, council members, members, students and institutes employees attended the rally.
Later in the evening, a discussion program titled 'Digital Transformation and Future of Accounting Profession' held in the Institute auditorium. Mr. Rafiq Ahmad FCMA, Past President of ICMAB joined the program as the chief guest and Mr. T I N Nurul Islam, Executive Director FICCI attended as the Resource Person. Mr. Muzaffar Ahmed FCMA (President & CEO, CRISL), Prof. Dr. Swapan Kumar Bala FCMA (Commissioner, BSEC), Prof. Dr. Mahfuzul Hoque (Dept. of AIS, Dhaka University), Mr. Hasnain Thoufiq Ahmed FCMA (Finance Director, Glaxosmithkline Bangladesh Ltd.), Mr. Pusharrof Hossain (President, FBHRO), Mr. Md. Kausar Alam FCMA (Group CFO & Company Secretary Seven Circle Bangladesh Ltd.) took part as discussant in the program. The program was moderated by ICMAB Vice-President Mr. Arif Khan FCMA.
ICMAB observes November 10 as International Accounting Day as it is the member of International Federation of Accountants (IFAC) and South Asian Federation of Accountants (SAFA). The Ministry of Commerce is the Administrative Ministry of this Institute.
EVENT INFO :
Start Date:

November 28, 2020

End Date:

November 28, 2020