ICMAB Celebrates International Accounting Day 2020
The 10th November is celebrated as "International Accounting Day" in most of the countries of the world. As one of the core spokesperson of cost accounting profession in our country, Institute of Cost and Management Accountants of Bangladesh (ICMAB) celebrated the occasion on Tuesday, 10th November, 2020 with some special activities and programs.
Marking the day, the ICMAB arranged a gathering in its official building and roamed around the institute arena. Office bearers, Former presidents, council members, members, students and institutes employees attended in this occasion.
Later in the evening, a discussion program held in the Institute auditorium. Prof. Dr. Md. Hamid Ullah Bhuiyan, Chairman, Financial Reporting Council, Bangladesh graced the occasion attending as the chief Guest. Mr. A. K. M. Delwer Hussain FCMA, Vice President SAFA, Past President and Council Member, ICMAB attended as special guest.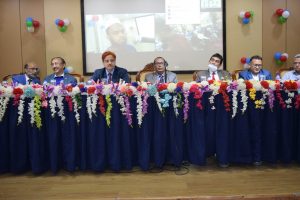 Chief Guest Prof. Dr. Md. Hamid Ullah Bhuiyan portrayed the entire landscape of accounting day from its inception and the hard work of accountants. He said that professional accountants have a big role to play for the clarity and development of economy because any organization will fall down if it can't maintain the financial clarity. He gave some example regarding this also that how some big organization faced tough conditions and how the entire economy had to struggle because of opacity and manipulation in financial particulars. He said that cost auditing should be a must do process not only for some particular organizations but also for every relevant organization. He assured that he will take necessary steps for implementing cost audit in relevant sector and create the fair cut for the CMA professionals according their competency.
Special Guest Mr. A. K. M. Delwer Hussain FCMA described the CMA profession as a symbol of clarity. He represented to the chief guest that how CMA professionals can create a great impact on the development and clarity in our economic perspective. He said that CMA professionals deserve their fare share in the arena of professional accounting.
President ICMAB Mr. Md. Jasim Uddin Akond FCMA said that ICMAB is dedicated to play its role for the clarity and development of our economy through the practice of Cost and Management accounting. He thanked the chief guest for coming and requested him to take necessary steps for implementing Cost Audit in all limited companies and relevant organizations. He also gave importance on Cost of goods sold certification by professional Cost and Management Accountants.
Dr. Syed Abdulla Al Mamun FCMA, Deputy CEO, CRISL- made a presentation on "International Accounting Day and Professional Aspiration for Sustainable Economic Growth in Bangladesh".
The program moderated by Mr. A.K.M. Kamruzzaman FCMA, Council Member, ICMAB. Welcome address was given by Mr. Md. Munirul Islam FCMA, Secretary, ICMAB. Vote of thanks was given by Mr. Abu Bakar Siddique FCMA, Vice-President, ICMAB.
ICMAB is a member of International Federation of Accountants (IFAC) and South Asian Federation of Accountants (SAFA). The Ministry of Commerce is the Administrative Ministry of this Institute.
EVENT INFO :
Start Date:

December 1, 2020

End Date:

December 1, 2020