Cost Audit will be implemented soon-Commerce Secretary
The Institute of Cost and Management Accountants of Bangladesh (ICMAB) organized a discussion session titled -"Treatment of Various items of Cost in Light of the Covid-19"on November 16, 2020 evening. Honorable Commerce Secretary of GoB Dr. Md. Jafar Uddin attended the programme as Chief Guest while Vice President of South Asian Federation of Accountants (SAFA) and Past President of ICMAB Mr. A. K. M. Delwer Hussain FCMA were present as special guest.
Chief Guest Dr. Md. Jafar Uddin said that, Cost and Management Accounting is a noble profession, it ensures clarity and explanation. Honorable Prime Minister took some strong initiative and efforts, and that's why our economy is still doing well. Our production and export are going with nice flow and that's why giving everyone proper stimulus package was possible. He said that he will take necessary steps to implement cost audit soon.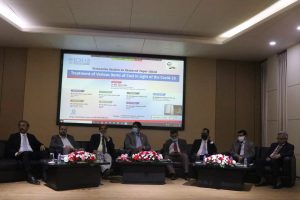 Special Guest Mr. A. K. M. Delwer Hussain FCMA drew attention of chief guest by discussing the importance of cost audit implementation for the development of national economy. He said that, CMA professional need their proper share and right for working. He thanked the chief guest for always being there for this Institute and its development as a guardian.
ICMAB President Mr. Md. Jasim Uddin Akond FCMA thanked all the honorable guest and participants, and emphasized particularly on ensuring Cost Audit Certification by a professional CMA firm or professional for every listed companies. He said that CMA professionals can create a great impact by putting their expertise for ensuring clarity in various economic aspects. He requested the honorable guests to create more scope for the CMA professionals in relevant fields so that they can give their effort for the development of this country.
Mr. Mohammad Shaheed, FCMA, FCA, Managing Partner, AUDIICOST, Cost & Management Accountants gave a detailed Presentation on -"Treatment of Various items of Cost in Light of the Covid-19". Mr. Abul Bashir Khan FCMA Chief Financial Officer, SMC Enterprise Limited participated as commentator on this presentation.
Vice President of ICMAB Mr. Md. Mamunur Rashid FCMA moderated the entire program connecting the audience and discussants and also gave his analysis regarding the topics of discussion. He mentioned about certification of Cost of Goods sold statement by CMA professionals and creating a panel of independent directors from CMA professionals to appoint them in various listed companies.
ICMAB Secretary of ICMAB Mr. Md. Munirul Islam FCMA gave welcome address. Vice President of ICMAB Mr. Abu Bakar Siddique FCMA gave the vote of thanks to the participants and audience of the program.
EVENT INFO :
Start Date:

April 22, 2021

End Date:

April 22, 2021