This year's budget is survival budget
ICMAB has organized a Webinar on Pre-Budget Discussion Session on National Budget 2020-2021 on 29 May 2020 at 7:00 p.m. Dr. Atiur Rahman, Former Governor, Bangladesh Bank, Mr. Mosharraf Hossain Bhuiyan ndc, Former Senior Secretary and Chairman of NBR, Professor Dr. Mustafizur Rahman, Distinguished Fellow, Centre for Policy Dialogue (CPD), Dr. Muhammad Shahadat Hossain Siddiquee, Professor, Department of Economics, University of Dhaka and Mr. Ranjan Kumar Bhowmik FCMA, Member (Tax Survey & Inspection), NBR joined the Webinar as honourable Discussants. Prof. Dr. Mahmood Osman Imam FCMA, Professor & Former Chairman, Department of Finance, University of Dhaka moderated the session.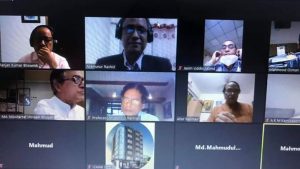 ICMAB President Mr. Md. Jasim Uddin Akond FCMA gave the inaugural speech in the webinar by thanking the honourable discussants for joining the programme. He prayed for the departed souls and the people who are affected by the pandemic COVID-19 virus. The President said that it is a moral duty for the Institute to give proper suggestions from the proper arena to the government in Budget issue. He hoped that CMA professionals will be able to help the government in the process of revenue collection & increasing and making clarity in every countable sector.
Mr. Md. Mamunur Rashid FCMA, Vice-President of ICMAB presented the paper on proposed National Budget 2020-2021. Emphasizing on strengthening the health sector as much as possible, Mr. Md. Mamunur Rashid FCMA briefly presented 13 core proposals on behalf of the Institute.
Dr. Atiur Rahman evaluated the audit process as the foremost task for ensuring the quality of expenditure in every sector. Considering the present worldwide crisis and future, he underlined on the health and medical sector to be more structured and capable than ever. He also mentioned to give importance about social protection in the upcoming budget and a proper database must be created to ease the process. The former Governor referred this budget as the surviving budget which should be focused on the process of survival in the current situation. He expressed hope about recovering the economic losses in near future through surviving this year. Meanwhile he mentioned that Bangladesh Bank could play a vital role in this process through inseminating credit guaranty skim.
Mr. Mosharraf Hossain Bhuiyan ndc suggested cutting down unnecessary costs in various sector as much as possible. He also mentioned to strengthen health sector and spend more for social security.
Distinguished Fellow of Centre for Policy Dialogue (CPD) Professor Dr. Mustafizur Rahman said that, this years' budget must be calculated based on health, humanitarian and economic crisis.
Quoting the speech of Alibaba owner Jack Maa's speech and Dr. Atiur Rahman's standpoint, Mr. A K M Kamruzzaman FCMA said that this year's budget must be focused on our survival. If we can survive this year, the next year will be the golden year for us.
EVENT INFO :
Start Date:

June 16, 2021

End Date:

June 16, 2021