12 newly qualified CMAs get a grand reception at ICMAB
The Council of the Institute accorded an open hall reception to the students who passed CMA June 2019 final examination. The program was held on October 3, 2019 at ICMAB Ruhul Quddus Auditorium. 12 students who successfully qualified to achieve the prestigious CMA degree after passing all the subjects of the CMA course were warmly greeted by the Office Bearers, Councilors, Members and Students of the Institute. Newly qualified students were briefly introduced before the audience. As a mark of honor, they were given seat on the dias while Councilors including seated among the audience.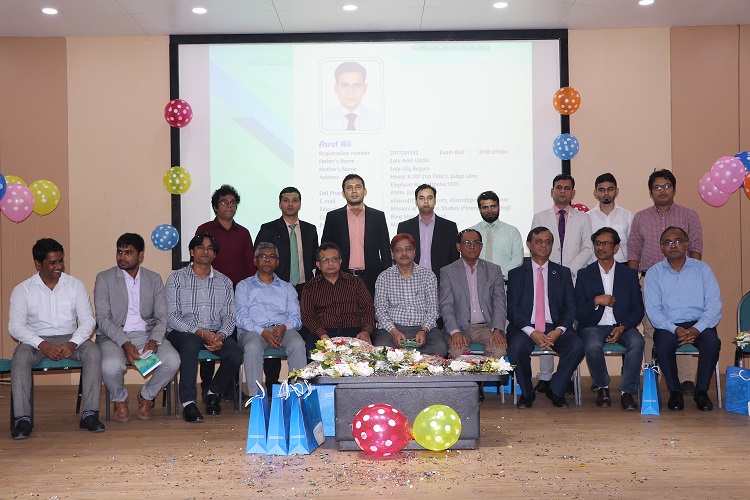 The newly qualified CMAs shared their feelings of joining the CMA family and narrated some of their stories of struggle, hopes and inspirations during their arduous journey as a CMA student. The CMAs expressed firm commitment to uphold the image of the profession.
ICMAB President Mr. M Abul Kalam Mazumdar FCMA; Past President Mr. Mohammad Salim FCMA, Mr. Jamal Ahmed Choudhury FCMA, Mr. Arif Khan FCMA, Mr. A. K. M. Delwer Hussain, Prof. Mamtaz Uddin Ahmed and Treasurer Dr. Swapan Kumar Bala FCMA congratulated the newly qualified 12 CMAs. They mentioned that as a professional they should remain committed to their responsibilities to the society. All the newly qualified CMAs put their signature with comments in the CMA graduation signature book. The program was conducted by ICMAB Secretary Mr. Md. Abdur Rahman Khan FCMA.
Past Presidents, Council Members, large number of Fellow and Associate Members of the Institute and a large number of running students attended the program.
EVENT INFO :
Start Date:

January 23, 2021

End Date:

January 23, 2021